On May 22nd, Visang Education announced a meeting with the Colombian education offices of Bogota and Tunja to discuss building a digital education infrastructure for bridging the education gap. 
On the 15th, Edna Christina Bonilla Seba, the secretary of education of Bogota, and Jose Moreno, the secretary of education of Tunja, visited Visang Education's headquarters, Paju Terabooks, Suwon englisheye academy, and the ELiF class site at Sangmyung University Elementary School. 
During a discussion with Visang Education on digital foreign language education policy, the two secretaries of education revealed plans to expand the use of Visang Education's educational technologies in Colombia. 
Visang Education took part in the International Book Fair in Bogota, Columbia, earlier this year and has since collaborated with the country to develop a digital-based educational infrastructure. Beginning in March of this year, two schools in Bogota and a higher education institution in Tunja are using Visang Education's englisheye program. 
Over 200 schools in Bogota will be take part in special piloting sessions of englisheye beginning next year. Students have received 135,000 tablet PCs thus far, with plans to increase this number. 
"The issue of educational inequality has worsened since COVID," Edna Christina Bonilla Seba, the secretary of education of Bogota, said, "but we have also found ways to easily access education with tablets. We will cooperate with Visang Education and provide more educational opportunities to students." 
"We look forward to showing englisheye's excellence and effectiveness through on-site verification during this visit," said Taehoe Yang, the CEO of Visang Education, adding, "We have more plans for the two countries to continue working together in the future."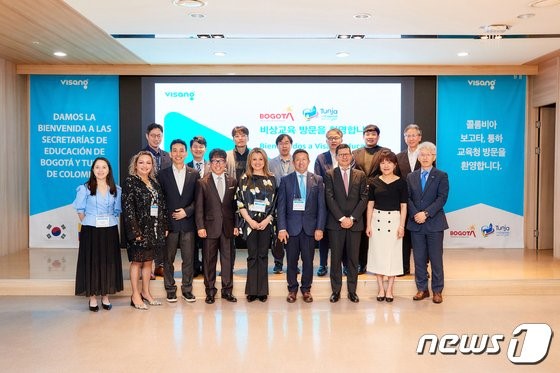 Bogota and Tunja secretaries of education and representatives and Visang Education staff take a photo at Visang Headquarters in Seoul.